Curiox Biosystems Announces an Exciting Innovation in Flow Cytometry!
13.11.2017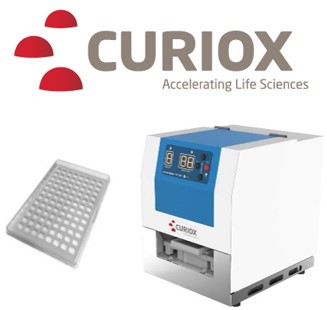 New DA-Cell™, a novel cell processing technology, enables superior staining and retention of suspension cells using centrifuge-less washing.
The DA-Cell Platform is a breakthrough innovation device with a uniquely designed wall-less plate that utilizes the same DropArray technology from the original DA-Bead plate while incorporating additional patented features that allow for laminar-flow washing with a 96-well dual nozzle washer. Cells can be gently washed with this novel centrifuge-less process offering significant benefits over the traditional centrifuge method for flow cytometry applications.
Clear and easy gating and segregation of cell populations (or cells)
Cell retention > 95%
Consistent and reproducible data
Thorough washing in 2-4 minutes
Technology overview (PDF)               Detailed information (PDF)               Contact us for availability and updates
Be one of the first to try this revolutionary technology!
Complete your Western workflow with the best tools!
12.11.2017

GE Healthcare Western Blotting products – the combination between the GE Healthcare brands Amersham™ and Whatman™ leads to an optimized portfolio which allows excellent results at highest convenience.
Amersham™ Substrates – adapted to cover your needs
Hybond™ and Protran™ Western Blot Membranes – world-renowned quality
Whatman™ Blotting Papers – the most commonly used blotting paper in the world
Molecular Weight Markers – control via its unique color code
Amersham™ Hyperfilm™ – unbeaten quality from the market leader
Amersham™ CyDye™ fluors
11.11.2017

Amersham CyDye fluors are versatile fluorophores designed for a broad range of applications. CyDye fluors combine exceptional photostability with bright and intense signals, resulting in high sensitivity and a highly reproducible performance at a biologically suitable pH range of 3 to 10. The use of multicolor CyDye flours enables multiplexing without crosstalk. In addition, the CyDye flours readily dissolve in aqueous buffers, which eliminates the need of organic solvents.
Finally, the high purity and thorough QC testing of Amersham CyDye fluors generate high levels of chromophore and reactive dye content. Narrow excitation and emission bands result in discrete signals from each fluor, which together with minimal cross-talk contributes to high accuracy.
Multi-purpose protein labeling
Fluorescent Western blotting
2-D DIGE
Cell imaging
DNA, RNA, and oligo labeling
Selection Guide (PDF)               Contact us for more information
Save 40% on your next order for CyDye fluors! More information…
Welcome to Our New Website
21.09.2017
Our new web appearance shall offer you a modern and useful tool to support your research. You will find comprehensive information split into 12 product categories combined with a product search to navigate through our product database for specific information, e.g. datasheets, prices, … . The new website introduces all of our 48 international suppliers offering 1.000.000+ products. The section "Latest news" will guide you through innovative solutions for your research, coming exhibitions as well as some information about what´s going on at THP. A detailed overview where you can find us in real life at exhibitions can be found in our exhibition calendar.

For us it is of importance that you know who we are and how to contact us. Therefore we included a contact person for each product category and at the product search site. An overview of all contact persons at THP and within Life Science can be found HERE.
Customer satisfaction and service are our highest priorities.
Next Exhibition – Exhibitions for 2018 will be announced soon!
20.09.2017
Please see our exhibition calendar for further information.