Life Science: Exhibition Calendar
15th Annual VBC PhD Programme Symposium

09.11.2017

-

10.11.2017

Organizer: Vienna Biocenter PhD Programme
Venue: Research Institute of Molecular Pathology (IMP), IMP Lecture Hall
Address: AT 1030, Vienna, Campus-Vienna-Biocenter 1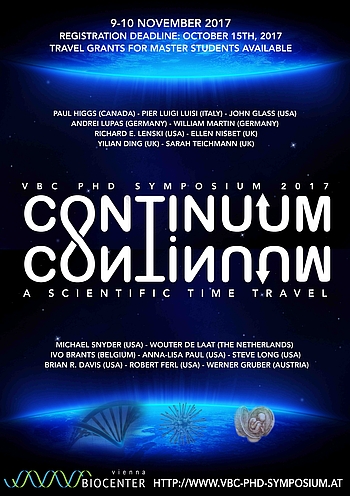 Every year the graduate students of the VBC PhD program organize their own symposium. The students of the four research institutes involved in the Vienna Biocenter PhD programme: Institute of Molecular Pathology (IMP), Gregor Mendel Institute (GMI), Max F. Perutz Laboratories (MFPL) and Institute of Molecular Biotechnology (IMBA) form a volunteer committee approx. 1.5 years ahead to organise the symposium.
"Continuum" aims to outline cutting edge life science technologies and future prospects as wells as combining these with exploring the beginning of life and the course of evolution. Together, we want to allow our attendees to glimpse into the future, equipped with the knowledge of our past.
We look forward to seeing you in Vienna!
EACTS – PACT Joint Symposium "Regenerative Medicine: Taking the Science to the Patient"

30.11.2017

-

01.12.2017

Organizer: EACTS, PACT
Venue: Courtyard Vienna Prater/Messe
Adress: AT 1020, Vienna, Trabrennstraße 4


The Steering Group for the Platform for Advanced Cellular Therapies PACT and the European Association for Cardio-Thoracic Surgery EACTS cordially invites you to a Joint-Symposium entitled "Regenerative Medicine: Taking the Science to the Patient". To reflect on the efforts of the researchers in the field of regenerative medicine and cell based therapies the PACT-Steering Group decided for a Joint Symposium together with EACTS focusing on advances in research and on regulatory issues in respect of Biologicals and ATMPs. Leading authorities in the following areas will deliver keynote lectures, presentations and posters on the subject:
Infarct Healing as a Therapeutic Target
Secretome and Regeneration: New Kid on the Block
ATMPs versus Biologicals
Regulatory Affairs, GMP-Production and Clinical Trials
Adipose-derived Mesenchymal Stem Cells in Ischemic Heart Disease
Human Trials with ATMP-Secretome – from Trachea, Skin and Valve Tissue
Cellular Plasticity and Tissue Regener
Inflammation & Immunology
Micro RNAs as Important Regulators
Cell and Gene Therapy
Mechano-Biological Aspects of Cell Behavior
We look forward to seeing you in Vienna!