Life Science: Exhibition Calendar
16th Annual VBC PhD Programme Symposium

08.11.2018

-

09.11.2018

Organizer: IMP, IMBA, MFPL, GMI
Venue: Research Institute of Molecular Pathology (IMP), IMP Lecture Hall
Address: AT 1030, Vienna, Campus-Vienna-Biocenter 1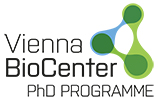 Every year, students make a great effort to organize the "VBC PhD Programme Symposium" which is supported by the institutes and through sponsorship. Leading scientists from around the globe present their latest discoveries within the symposiums' selected range of topics.
We hope to discuss these issues and find a scientific solution to the problems that not only scientist but the general public are struggling with. Join us in the VBC PhD symposium 2018 – "Metamorphosis – Transforming Science" – for an inspiring discussion about the changes we as scientists will have to make, in order to move to a new chapter of scientific research.
We look forward to seeing you in Vienna!