proteintech: Spend More, Save More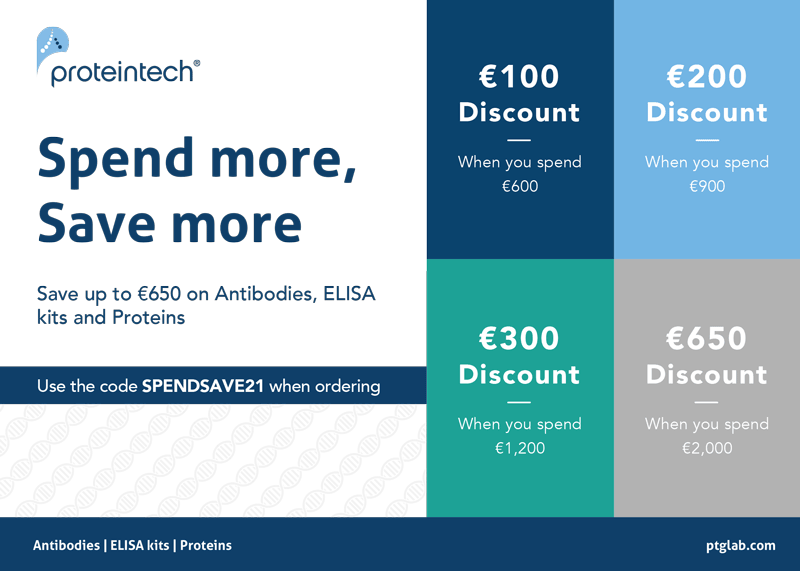 It's the perfect time to stock up your lab with the return of Spend More, Save More
Back by popular demand and just in time for the new semester is our Spend More, Save More promotion. Stock up on all your essential lab supplies with up to a $650 discount on all Proteintech products, including our new IHCeasy kits.
€ 100,- discount when you spend € 600,-
€ 200,- discount when you spend € 900,-
€ 400,- discount when you spend € 1200,-
€ 650,- discount when you spend € 2000,-
To take advantage of this offer, place an order using the code SPENDSAVE21. Offer ends 10/31/2021.
Offer valid in the US, Europe and Canada. Click here for promotion details for the United Kingdom.
Offer excludes all HumanKine® products over 10µg, all sizes of HumanKine Wnt3a, PDGFBB, and IFN gamma, as well as all ChromoTek products.
MCE: Bioactive Compound Libraries 30% OFF
MCE compound libraries would make enable your success!

Want to conduct mechanism research?
Want to identify new targets?
Want to discover new drugs?
Want to conduct drug repurposing?
Want to accelerate research process?
Want to reduce research cost?
All MCE ready-to-use Bioactive Compound Libraries and Customized Libraries are now 30% off.
Promotion ends Dec 31st 2021 and is not applicable to orders less than 500 EUR.
Detailed compound information available – Contact us >>                    Promo booklet >>
Reddot Biotech: 5% off all Products

We are excited to introduce a new promotion for Fall 2021!
Order any product from Reddot Biotech and receive 5% off – no promo code needed.
No promo code necessary. Offer ends 12/31/2021.
proteintech: 20% off on IHCeasy Ready-to-use IHC Kits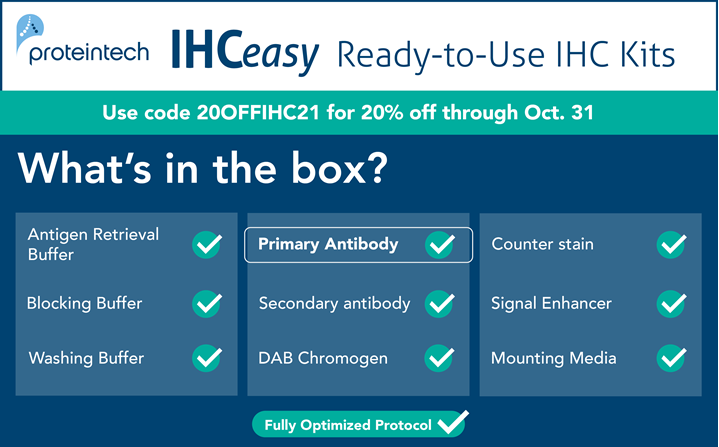 The most complete IHC workflow kits on the market.
The IHCeasy Ready-to-use IHC Kits are designed to provide all the antibodies and reagents needed to stain your tissue samples, including the primary antibody. Each kit's protocol has been thoroughly optimized to provide the best staining for your protein of interest. The reagents in the kit require minimal preparation – simply apply them directly to your tissue sample and you're steps away from obtaining high-quality IHC data.
Use code 20OFFIHC21 for 20% off IHCeasy Kits until October 31st 2021.
Ray Biotech: 20% off L-Series Arrays

Sale on our highest density antibody arrays
Simultaneously detect up to 2000 proteins in a single experiment. RayBiotech's L-Series arrays provide sensitive and precise detection of a multitude of soluble factors, including metabolic enzymes, structural proteins, and of course a variety of cytokines, growth factors, proteases, and signaling proteins.
NEW Discounted L-series Array Kit Options:
2000 Human Proteins
1500 Rat Proteins (NEW Rat L1500 Array)
1308 Mouse Proteins
500 Rabbit Proteins (NEW Rabbit 500 L1 Array)
Use promo code LSP20 to get 20% off all semi-quantitative, L-series array kits.
Custom arrays and services not included. Sale ends October 31, 2021.
Ray Biotech: 20% off! COVID-19 Proteins

Get 20% off RayBiotech's expansive catalog of recombinant proteins for COVID-19.
The catalog includes:
SARS-CoV-2 Proteins: Spike (wild-type & variants), Nucleocapsid, Membrane
SARS-CoV Proteins
MERS-CoV Proteins
Host Receptors
Thrombosis-related Proteins
Use promo code 20SARS21. For proteins expressed in E. coli or human HEK293 cells. Cannot be combined with any other offers. Offer ends December 31, 2021.
Ray Biotech: 20% off Quantibody and GS-Series Array Kits

The 20% off Quantibody sale now also include GS-Series array kits (no code needed).
As a reminder, the GS-Series arrays are the same array prints as the comparable Quantibody array but they will not include the standard cocktail so results will be semi-quantitative in comparison.
No code needed, see and order via promo prices in our Life Science Shop as often as you like through Dec 31, 2021.
Show all Ray Biotech promo array kits in the Life Science Shop >>