BUY 2 TRIAL 2 ANTIBODIES

Order any two 150ul antibodies and choose any two 20ul trial size antibodies free. Valid in Europe only.
Choose from antibodies against over 12,000+ targets, all manufactured and validated by in-house scientists.
To take advantage of this offer, place an order online using the following code: GBUY2TRIAL
Valid for orders til 30th of December 2019.
Life Cell Staining Kits – 20% Off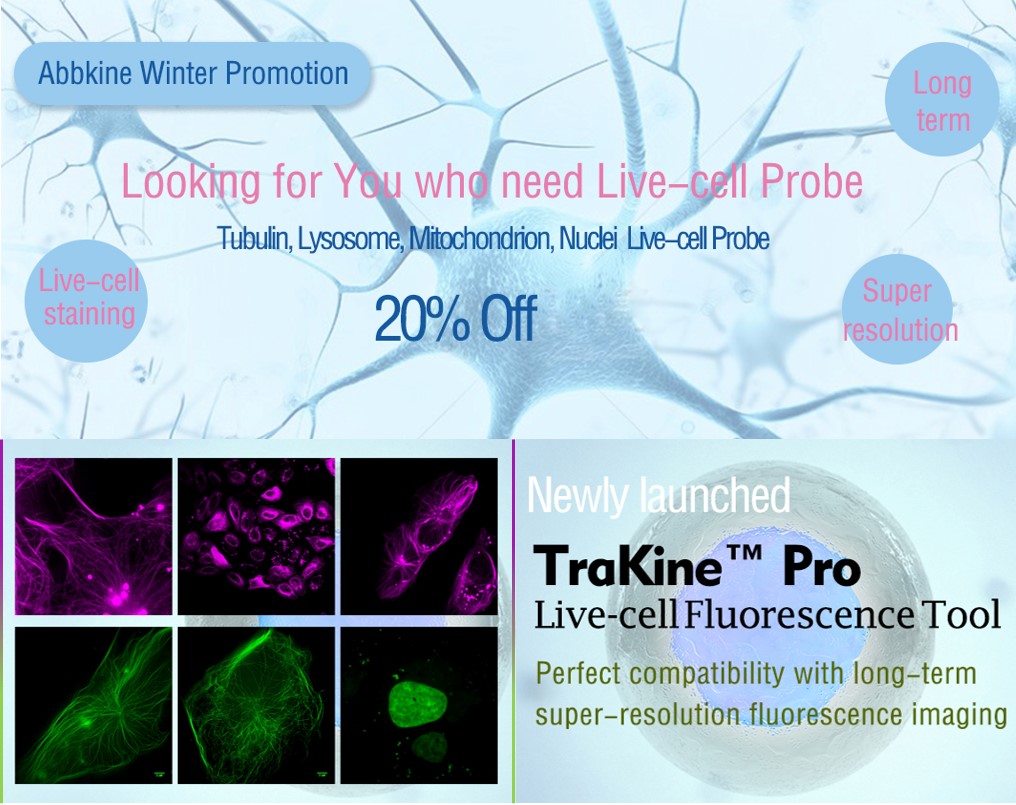 TraKine™ Pro product line (Tubulin, Lysosome, Mitochondrion, Nuclei live-cell probe) is now 20% off.
This series is ideal for long-term super-resolution cell staining. Besides labeling subcellular structures of live and fixed cells it highlights the following features and benefits:
Proprietary probe contains fluorescent dye and a unit which electively recognize organelles, with high specificity, low background, excellent photostability and good cell permeability.
Optimized staining protocol for labeling subcellular structures in mammalian living and fixed cells.
Fuorescence can last for several hours in cells, stable and persistent, especially ideal for monitoring dynamics.
Super resolution, especially suitable for Confocal and long-term super-resolution imaging (such as SIM, STED, TIRF, STORM and PALM).
Safe, very low or no cytotoxicity to cells.
Valid till 15th January, 2020.
Proteintech control antibodies are €149 each for a 150ul size vial.

Terms & Conditions:
This promotion cannot be used in conjunction with any other promotional offer.
This discount only applies to the antibodies stated above. Custom production antibodies and any other pre-made antibodies from our catalog are not included.
Shipping costs still apply.
If the promotional offer is redeemed in the UK the antibody price is £149. In Europe the price is €149.
This promotional offer is subject to availability.
THP reserves the right to end the promotion at any time.