3 for 2 on all primary antibodies

Order any 2 primary antibodies (150ul) and choose a 3rd completely free. To take advantage of this offer, place an order online using the code below. Offer ends 31st March 2020.
Choose from antibodies against over 12,000 different targets, all manufactured and validated in-house ensuring lot-to-lot consistency and reproducibility.
Antibodies validated with siRNA knockdown/knockout technology
Comprehensive technical support
Transparency – open access validation images and datasheets
If you need assistance with ordering or have any questions relating to our products or services, please contact us. Terms and conditions apply.
Life Cell Staining Kits – 20% Off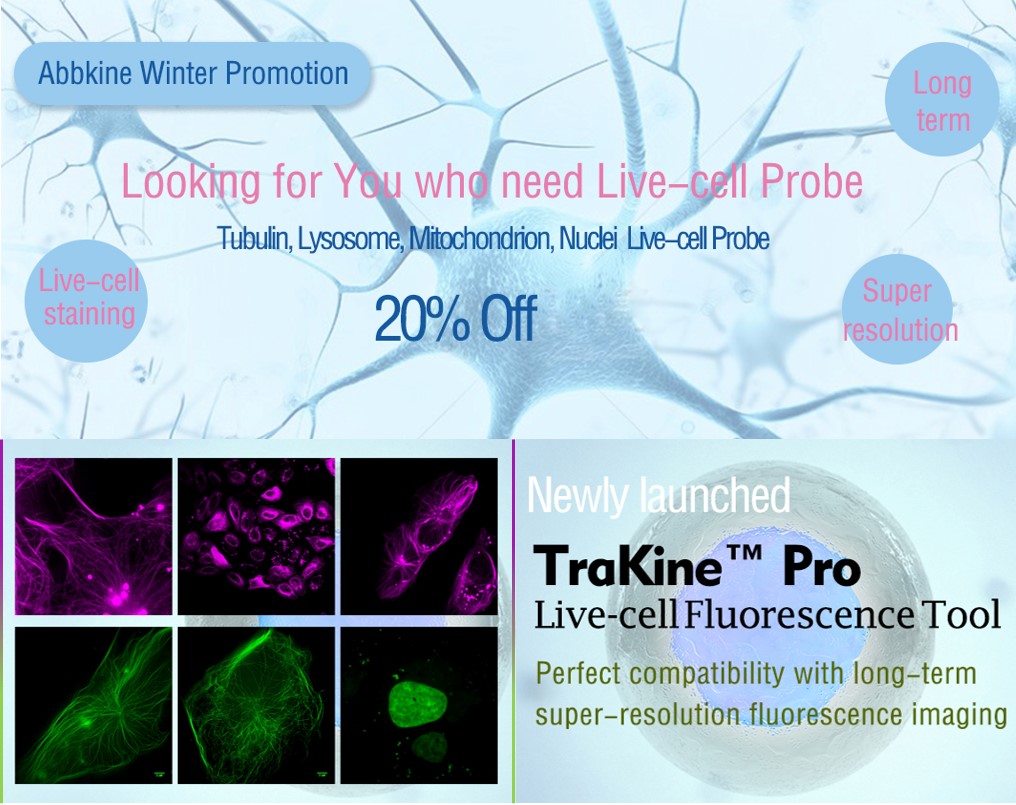 TraKine™ Pro product line (Tubulin, Lysosome, Mitochondrion, Nuclei live-cell probe) is now 20% off.
This series is ideal for long-term super-resolution cell staining. Besides labeling subcellular structures of live and fixed cells it highlights the following features and benefits:
Proprietary probe contains fluorescent dye and a unit which electively recognize organelles, with high specificity, low background, excellent photostability and good cell permeability.
Optimized staining protocol for labeling subcellular structures in mammalian living and fixed cells.
Fuorescence can last for several hours in cells, stable and persistent, especially ideal for monitoring dynamics.
Super resolution, especially suitable for Confocal and long-term super-resolution imaging (such as SIM, STED, TIRF, STORM and PALM).
Safe, very low or no cytotoxicity to cells.
Valid till 15th January, 2020.